BOX 52 ASSOCIATION INC.
BOSTON, MASSACHUSETTS
ORGANIZED TO PROMOTE FIRE PREVENTION AND EXTINGUISHMENT IN METROPOLITAN BOSTON
CELEBRATING 100 YEARS 1912-2012
UPDATED ON 5/16/2019
It is with deep regret that the Officers and Board of Directors announce the passing of life member Norman E. Woods. Norm was residing in Florida at the time of his passing.
He was the son of Norman E. Woods, Sr. and Martha (Carney) Woods. He graduated from Lynn English High School in 1961 and graduated from Lowell Technological Institute with a BS degree in electrical engineering in 1965. He also completed the University of Michigan's Public Utility Executive Program in 1986. He moved to New Hampshire in 1965 where he joined Public Service Company of NH. He had a long and distinguished career at PSNH and retired after 35 years. Norm served his community in so many ways. He was an active member of professional and civic organizations including Kiwanis, Lions, Rotary and numerous chambers of commerce. In his personal life he enjoyed sailing and was a past Commodore of the Little Harbor Yacht Club. Norm was an active Ham Radio enthusiast (K1INX) and fire buff. He enjoyed serving multiple towns as a firefighter and EMT. Judy, his wife, and Norm loved RVing in their Class A Motorhome having toured the entire lower 48 states. Norm was an incredible father, husband and friend to anyone he met. He enjoyed life every single day and always had an incredibly positive attitude. Family members include his beloved wife Judy of 40 years, his children Steven and Kimberly Woods, Kenneth Woods, Todd Woods; his step children David Hanlon and Cathy Hinzman, Edward and Tracey Hanlon, Carlene and Doug Stewart, Jennifer and Dean Lambert. He had 16 grandchildren and 3 great grandchildren. He also leaves the mother of his children Linda (Woods) Orosky and his brother Paul Woods and Diane Perrault. According to his wishes, a private family memorial service will be held sometime in June.
Rest in peace Norm.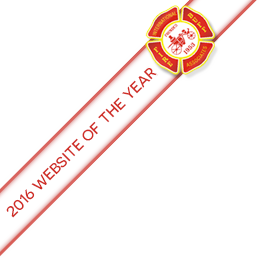 The Box 52 Association is proud to have member and Cambridge Assistant Chief Gerry Mahoney named as the 2016 Fire Buff of the Year and have the Box 52 Website named 2016 Website of the Year by the International Association of Fire Buffs.
Attention all members:
If you want to receive emails with the latest General Orders and the Line Box Newsletter, please keep the media staff informed when you change your email address. We have experienced many "bounce-back" emails because of members changing their email address and not informing us of this change. Please remember to contact Frank at CLICK FOR EMAIL when you change your email address so that you can stay up to date with the latest Box 52 information.
| | | |
| --- | --- | --- |
| FACEBOOK PAGE | Visit us on Facebook | |
| CURRENT GENERAL ORDERS | Download and read the latest General Orders | UPDATED 4/19/19 |
| PAST GENERAL ORDERS | Download and review past General Orders | |
| LINE BOX NEWS LETTER | Always a great read, check out the latest edition or past issues | 4/24/19 |
| NEWS | Box 52 news and other tid bits | UPDATED 8/13/18 |
| SPECIAL FEATURES | Special Features including photos from our fantastic bus trips and the Toronto Firebuffs Newsletters | UPDATED 4/30/19 |
| BOSTON FIRE OF 1872 | Box 52, where the organization got its start | |
| IFBA CONSTITUTION/BYLAWS | International Fire Buffs Association Constitution and Bylaws (PDF File) | |
| SENIORITY LIST | List of Members in order of seniority | UPDATED 5/9/19 |
| IN MEMORIAM | List of members that are no longer with us, but will always be remembered | UPDATED 5/16/19 |
| CONTACT INFORMATION | Contact the officers of Box 52 | |
| LINKS | Links to our favorite sites | |

A Proud Member of the International Fire Buffs Association